Professor Stephanie Tai Receives Professional Scholarship Award
American Agricultural Law Association presents Scholarship Awards that recognize and encourage scholarly work in agricultural law.  In selecting student and professional winners, the AALA Awards Committee considers criteria including the excellence in quality of writing, the relevance to important legal issues in agriculture, broadly defined, the clarity of analysis, the potential impact, and other attributes of scholarship.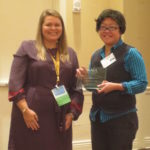 This year, the Professional Scholarship Award was presented to Stephanie Tai of Madison, Wisconsin for her publication, Whole Foods: The FSMA and the Challenges of  Defragmenting Food Safety Regulation, 41 AMERICAN JOURNAL of LAW & MEDICINE, 447-458 (2015). The article discusses the fact that 19 Federal Agencies are charged with food regulation and it proposes a process by which Food Safety regulation might be more efficiently handled by the Federal Government.
Stephanie Tai is an associate professor of law at the University of Wisconsin Law School. She focuses her scholarly research on the interactions between environmental and health sciences and administrative law. She was an adjunct law professor at Georgetown from 2002-2005 and a visiting professor at Washington and Lee University School of Law during the 2005-06 academic year. Her teaching interests include administrative law, environmental law, food systems law, environmental justice, risk regulation, contracts, and comparative Asian environmental law. She spends her leisure time lifting weights, boxing, reading fiction, listening to terrible pop punk, scouring farmers' markets, and annoying her pet iguana.